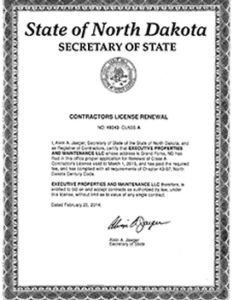 The construction and remodeling division of Executive Properties Construction is the pride and joy of our company.
We believe that no job is too small – and we mean it! This means, that whether you are getting a new patio door, or a completely new deck built, we will still have the same quality controls in place, and the same dedication to finishing the job right. For us, our reputation is what has made us into the great team we are today. We care about each and every customer that walks through our door.
Here is some of the work that we do – and if you don't see your specific project listed, just ask! Also, check out our photo gallery.
New Construction
Commercial Construction
Residential Remodels
General Contractor
Bathrooms Remodels and Additions
Kitchen Remodels
Windows and Doors
Siding
Cabinets and Trim Work
Trim and Tile work
Concrete Work
Flooring
Garage Doors and Repairs
Handyman Services
Small Projects
Commercial Restaurant Remodeling: Demo entire inside and rebuild to new specifications
Custom Bar Top: Built for a man cave
Custom Home Pillars: Built to accent the house
Bathroom: Custom tile shower and floor
Decks: Tear down and rebuild rotting decks with columns to strengthen it
Complete Outside Remodel: Tear off old siding and windows and install a new one, along with new metal roof
Vinyl Siding Installation: Tear off old siding and windows and install brand new vinyl siding.
Complete Home Remodel: Before and during photos.
Custom Cedar Fence
Assembly: Prefabricated shed custom built foundation
Complete Bathroom Remodel: To include custom tile shower, new cabinets and countertops and a jetted tub.