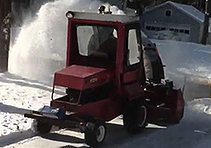 At Executive Properties Construction we realize that being in business in North Dakota means cold weather and snow.
We provide snow removal services for both residential and commercial properties in the Grand Forks area. Our experienced team takes pride in assuring private homeowners that they are able to get to work even in the worst snow storms. Likewise, our business clients can rely on us to make sure their customers can access their parking lots, sidewalks and entries.
We can provide a seasonal snow removal contract or we're happy to accommodate a single cleaning also.
What Our Clients are Saying